2023 APTA Alaska Fall Conference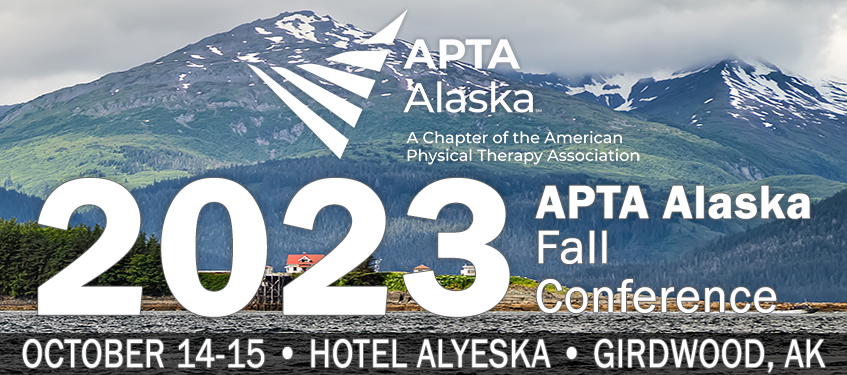 Description
2023 APTA ALASKA FALL CONFERENCE
OCTOBER 14-15, 2023
Alyeska Resort, Girdwood, AK
 Spinning Beyond Basics: Balance Training and Current Concepts in Vestibular Rehabilitation
Early Registration Deadline: AUGUST 14
SPEAKERS:
 LEE DIBBLE, PT, PhD, ATC, FAPTA
MICHAEL C SCHUBERT, PT, PhD, FAPTA
A TOTAL OF 14 CONTACT HOURS
REGISTER ONLINE   VENDOR/EXHIBITOR REGISTRATION COURSE INFORMATION
HOTEL INFORMATION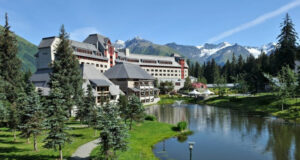 The Hotel Alyeska – Girdwood, AK
1000 Arlberg Avenue
Girdwood, AK  99587
METHOD OF RESERVATIONS: Reservations for the Event will be made by individual attendees directly with our in-house reservations team at 907-754-2111 or 1-800-880-3880.
Mention: Alaska Physical Therapy Association
ROOM RATE: $179 Per Night Plus Tax & $25 Per Night Resort Fee
RESERVATION DEADLINE: SEPT. 13
Spinning Beyond Basics: Balance Training and Current Concepts in Vestibular Rehabilitation
Course Description
This course will integrate anatomical and physiologic principles with clinical examination and treatment ideas. The content is broad and includes topics related to diagnosing and treating the most common vestibular disorders, including, peripheral and central vestibular pathophysiology.
We will ask the participants to pair up for lab skills. If we have uneven numbers of people or equipment, then a few can form a group.
We will have two tables available for the instructors to demonstrate and the participants to practice the BPPV diagnosis and treatment portions of the lab.
We enjoy teaching in an interactive environment, so participants are encouraged to ask questions.
Objectives
Upon completion of this course, participants will:
Understand the role of the vestibular system in gaze and gait stability.
Perform an oculomotor examination.
Identify pathological eye movement implicating the oculomotor and vestibular systems.
Perform clinical skills to treat positional vertigo.
About the Speakers
Lee Dibble, PT, PhD, ATC, FAPTA, is currently Department Chair and a Professor within the Department of Physical Therapy and Athletic Training at the University of Utah. After receiving his PT degree from Duke University, he earned a PhD from the University of Utah with a focus on Motor Learning and Motor Control. For the past 20 years, Dr. Dibble has co-directed the University of Utah Balance and Mobility Clinic and the Motion Capture Core Facility. Currently, his research examines exercise effects on postural and gaze stability in persons with neurologic conditions, such as Parkinson Disease, Multiple Sclerosis, vestibular hypofunction, and concussion. Funding for this research has come from the NIH, the Department of Defense, the National Multiple Sclerosis Society, the PAC-12, the Michael J Fox Foundation, the Foundation for Physical Therapy Research, and the University of Utah.
Michael C. Schubert, PT, PhD, FAPTA, completed his PhD at the University of Miami in 2001. He then completed a post-doctoral fellowship in vestibular neurophysiology at Johns Hopkins University in 2004. Currently, he holds an appointment as Professor in the Department of Otolaryngology-Head and Neck Surgery at Johns Hopkins University. His research is focused on examining the oculomotor mechanisms responsible for both behavioral outcomes and physiologic changes associated with vestibular rehabilitation. His research has been funded by NASA, NIH, the US Department of Defense, and the Foundation for Physical Therapy.
REGISTER ONLINE   VENDOR/EXHIBITOR REGISTRATION COURSE INFORMATION