2021 APTA Alaska Spring Conference Webinar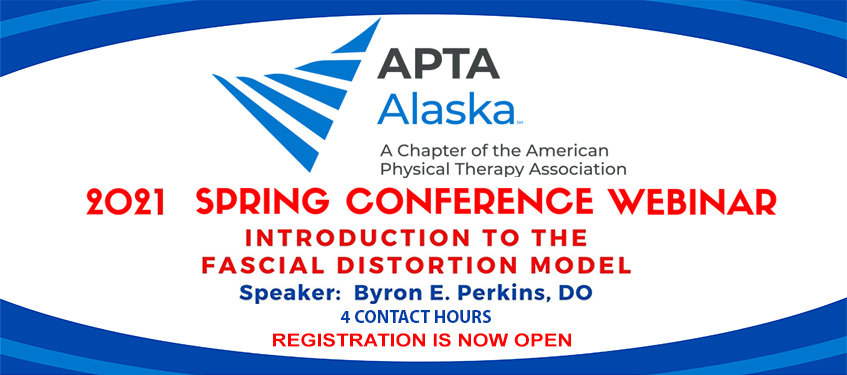 Description
2021 SPRING CONFERENCE WEBINAR
MAY 1, 2021
9:00 AM – 1:00 PM
INTRODUCTION TO THE FASCIAL DISTORTION MODEL
SPEAKER: Byron E. Perkins, DO
4 CONTACT HOURS
Important Links
Description / Objectives
Part 1: Introduction to the FDM
Part 2: FDM Approach to the Ankle

Introduce the Fascial Distortion Model as a diagnostic and treatment modality.
Gain basic understanding of the model as an anatomic perspective.
Develop working knowledge of the Six principal types of Fascial Distortions.
Introduce nomenclature and terminology of the FDM.
Appreciate historical and international significance of the FDM.
Present an amazingly powerful tool that can change the way we practice medicine.

Review common ankle injuries, strains, sprains and fractures.
Diagnose ankle injuries in the FDM.
Demonstrate treatment approach to ankle injuries in the FDM.
Invite Hands-on practicum in the FDM modalities.
This will be a video conference with opportunity for live interaction with the instructor. Demonstrations will be via video of actual patient encounters. Live Hands-on practicum may be limited by COVID19 Pandemic constraints placed by State and local municipality guidelines. Looking forward to sharing this method with our professional colleagues.
ABOUT THE SPEAKER
Dr. Perkins is a graduate of the University of Health Sciences, College of Osteopathic Medicine in Kansas City, MO, 1984. He interned at Oklahoma Osteopathic Hospital in Tulsa, and completed a residency in Osteopathic Family Practice at Doctor's Hospital in Columbus, Ohio. Board certified in Osteopathic Family Medicine, his current practice focuses on primary care, mental health, wellness, musculoskeletal injuries and Osteopathic Manipulative Treatment. He maintains hospital privileges at both Providence Alaska Medical Center and Alaska Regional Hospital.
He began his medical practice at the Norton Sound Health Corporation in Nome, and practiced at the Alaska Native Medical Center in Anchorage before co-founding Cornerstone Clinic Medical and Counseling Center. He was introduced to the Fascial Distortion Model by Dr. Stephen Typaldos, DO, in 2004, and has been practicing in the model ever since. He was instrumental in the founding of the American Fascial Distortion Association in 2007, served as its President from 2009-2011. He became a Certified FDM Instructor in 2008, and has lectured nationally (Alaska, Washington, Montana, Idaho, Hawaii, California) and internationally (Africa, Japan, Mongolia, Austria) since that time.
In 2010, the Center for Osteopathic Research and Education was dedicated at Cornerstone Clinic, and for the past 13 years, 90% of Dr. Perkins clinical work has involved Osteopathic Manipulation utilizing the FDM. He was introduced to Dr. Robert Schleip, PhD, Professor at the University of Ulm, Germany, Fascia Research Center, while presenting at the International FDM Congress in Vienna, Austria in 2011. He became a founding member of the Fascia Research Society while attending the Third International Fascia Research Congress in Vancouver, BC, in 2012, and attended the Fourth International Fascia Research Congress in Washington, D.C. in 2015.
His current affiliations include the Alaska Osteopathic Medical Association, the Alaska State Medical Association, the American College of Osteopathic Family Physicians, the American Fascial Distortion Model Association, and the American Osteopathic Association. He serves on the Board of Directors of the American Fascial Distortion Model Association in Bangor ME, the Northwest Osteopathic Medical Foundation in Portland, OR, Anchorage Project Access in Anchorage, AK, and Northwest University in Kirkland, WA. He has held Associate Clinical Faculty appointments at the University of Washington, School of Medicine (WWAMI), and maintains teaching appointments with several Osteopathic Colleges of Medicine, precepting medical students and Family Practice residents in Osteopathic Principles and Practice at Cornerstone Clinic.
Dr. Perkins is an osteopathic physician who enjoys his work immensely. He values the opportunity to train others in the Fascial Distortion Model. He is gifted in teaching and is sought out by students and physicians for hands on training in osteopathic medicine. He is passionate about treating the whole person, mind, body and spirit. His legacy is in "Training the Next Generation".
AUDIENCE: This course is open to PT, PTA, OT, COTA, DO, MD, ATC, DC and Students of These Professions